Silicon Valley
"My head is so far up my own ass, I can see the future."
-- Erlich Bachman
A sarcastic send-up of the tech industry, Silicon Valley focuses a fictional startup, Pied Piper, going up against tech giant, Hooli. The show centers on 6 bros -- timid Richard Hendricks (played by Thomas Middleditch), gullible Big Head Bighetti (played by Josh Brenner), evil genius Bertram Gilfoyle (played by Martin Starr), sarcastic romantic Dinesh Chugtai (played by Kumail Nanjiani), eternal optimist "Jared" Dunn (played by Zach Woods) and narcissist Erlich Bachman (played by TJ Miller -- gone in season 5, also known as the Mucinex booger).
The whole show is an inside joke, beginning with the opening credits...
A great title sequence just sticks with you. Think: the Addams Family, the Brady Bunch, Friends, the Fresh Prince of Bel Air, Mad Men, Sex & the City, the Sopranos, Six Feet Under, South Park, the Simpsons, True Blood, Weeds, Wonder Years ... and Silicon Valley. It's probably no coincidence that many of these shows were on HBO. But creator Mike Judge didn't even want titles so he could use all his airtime on the show.
I'm glad cooler (big) heads prevailed. Check out the following opening scenes in all their colorful glory...
New startups: Coinbase, Juicero, Whole Foods
Hidden jokes: Facebook logo is written in Russian, Uber employees flee to Lyft, stacking cryptocurrencies, Yahoo is gone and the Snapchat ghost seems to be floating away.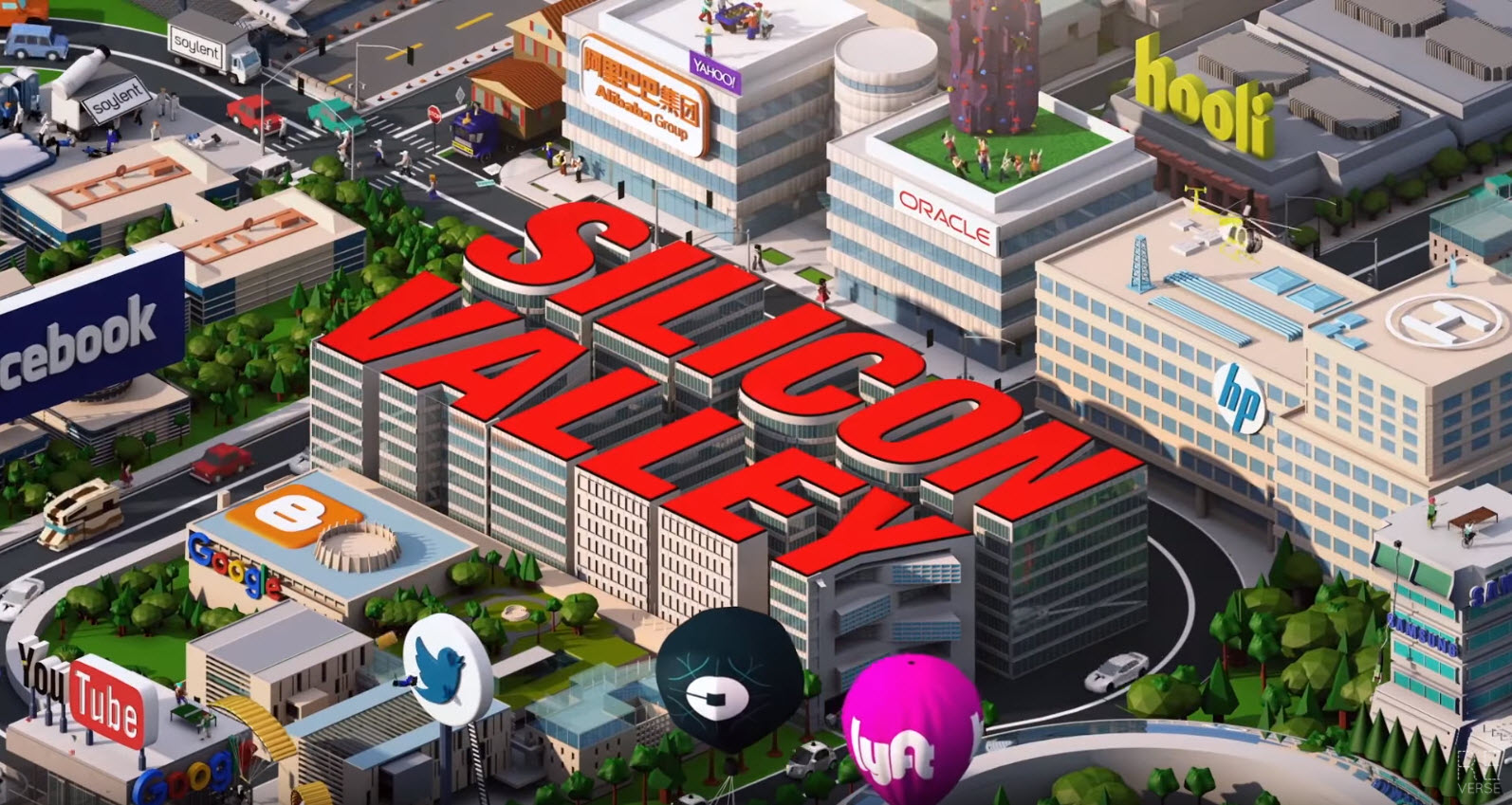 New startups: Airbnb, Dropbox, LinkedIn, Nest, Paypal, Pinterest, Reddit, Slack, Samsung, Snapchat, Theranos, Twitch, Vine, Yelp
Hidden jokes: Amazon drone delivering a pizza, Uber & Lyft fighting, Soylant port-a-potties, FBI outside Theranos and Twitter's golden parachutes.
New startups: Adobe, Alphabet, Amazon, Lyft, Soylent, Tesla, Zynga
New startups: 23 & Me, Alibaba, Anybots, Appcelerator, Chrome, Occulus, Re/Code, Uber, WhatsApp
Startups featured: Android, AOL, Apple, Blogger, Ebay, Energy Pod, Facebook, Google, Hooli, Hewlett-Packard, Intel, MySpace, Napster, Netscape, Oracle, Pets.com, Twitter, Yahoo, YouTube